"Veritas" - Hot Bike October 2013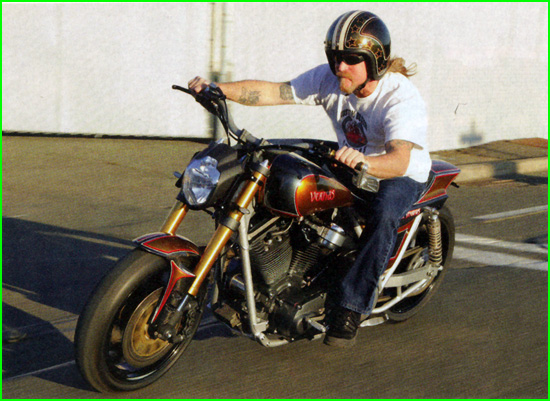 Veritas, Latin for "Truth", is a bike that incorporates a blending of the best from two worlds of motorcycling.
The concept was to build a Harley that stops and handles like a sport bike, something most don't measure up to with their metric cousins. The FXR is, by far, the best production bike that Milwaukee ever produced in regards to addressing all around versatility for riding styles, thanks to Eric Buell. They were the ride of choice for a lot of club members and as of late, are seeing a resurgence of popularity with the younger riders who want the best of both worlds.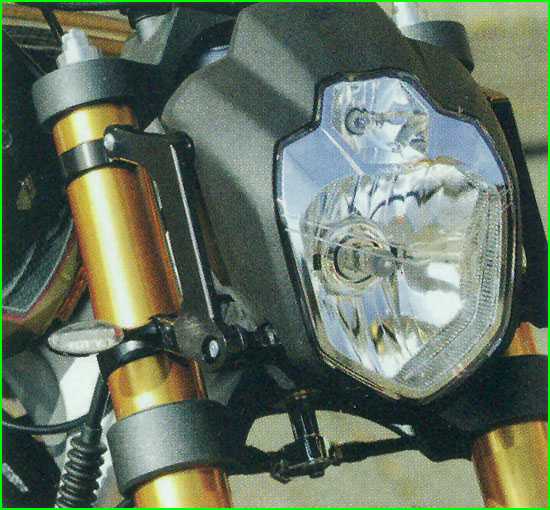 "My customer said to me, 'What do you want to build?' I knew immediately what platform I would start with. I still have my first FXR that I bought in the early '9Os. So after careful consideration, we purchased a '9O FXR and instantly tore it down.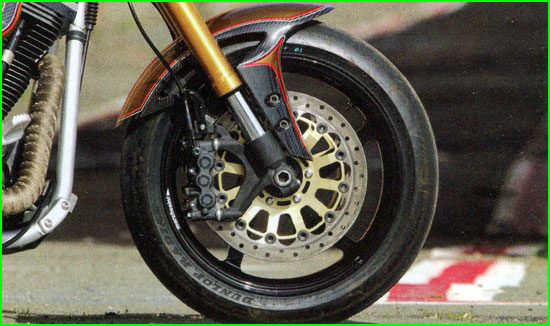 "Sandy Kosman had a set of VR-1000 Marchesini Racing wheels that would be a perfect complement to what instantly give credibility with the knee draggers. The front wheel wouldn't fit between stock 39mm legs so we used a Yamaha R-1 front end, and the bike started to take shape. Still the rake, trail, steering head offset, and fork length issues needed to be addressed, to which I enlisted Satya and Alan Kraus to CAD design and machine a set of -2.5 drop trees with 1.75 offset to make the bike handle correctly. "While all this was being figured out, I came across an aluminum swing arm that Eric 'The Iceman' had started to build. I knew I wanted the racing vibe to permeate the bike, and a Mert Lawell—style trellis being added would aid in this endeavor, to which I enlisted the services of my friend, Martin Windmill. In addition, the swing arm is seven pounds lighter than stock.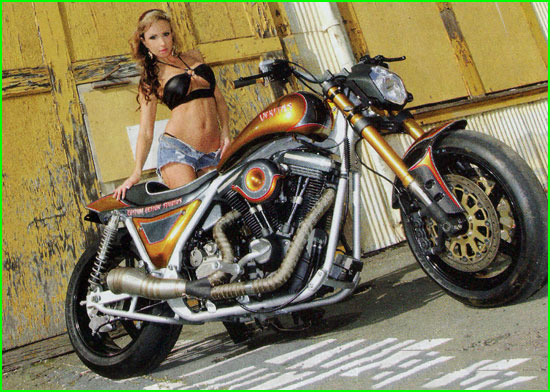 "The rear wheel was going to present its own set of hurdles to overcome, as the hub offsets are not standard issue I-I~D. I handled the machining of the transmission to accommodate the spacing between the cleve blocks and the new spherical bearings that would locate everything centerline for this rubber mount racer.
"Squeezing the Dunlops between the framerails was achieved by cutting the rails in half vertically, welding in a plate and blending it to the frame. This gave me more clearance and plenty of room for a meaty 190x17 tire.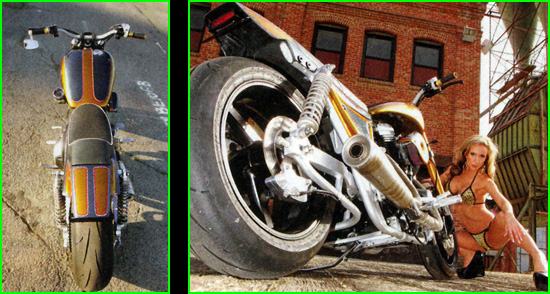 "Nothing says H-D racing like the XR 750 Tail section. The only problem is it only fits XR's and XL's'. With a lot of working we were able to have it looking like it belonged on the bike all along.
"With the front end handed back, it was time to consider the accessories such as hand controls, handlebars and lighting. I wanted to upgrade the lighting with the addition of the Urban Moto Headlight kit from Speigler USA. I knew Geoff Arnold over at Joker Machine had a killer Lucas-style taillight that fit the tail section perfectly, and after a brief conversation, he convinced me to go with their black hand controls and a brushed bar mount mirror, as well as the side—mount gauge cup for the Auto Meter Speedo. I gun drilled a set of billet knurled foot pegs and made a peg mount inspection cover that shaved off the heavy bracket that attached to the frame.
"When it came to color, I wanted the frame to look like aluminum and Bob at R. S. Performance Coatings had what I Wanted with a special ceramic coating that made it look like bead~blasted aluminum. The engine and transmission are also covered in a Cast Gray Pearl Wrinkle finish and ceramic contrasting accents. "Incorporating a carbon—fiber look would give me visual separation and racing appeal. So a call to Rob at PPG for their amazing 24 Karat Vibrance line, and another call to Russell at West Coast Hydrographix for the carbon—fiber film that was laid over a black base. The dark and light contrasts and textures play well together. Wrapping up the look with Courtney's pinstripes nailed it for me! Veritas!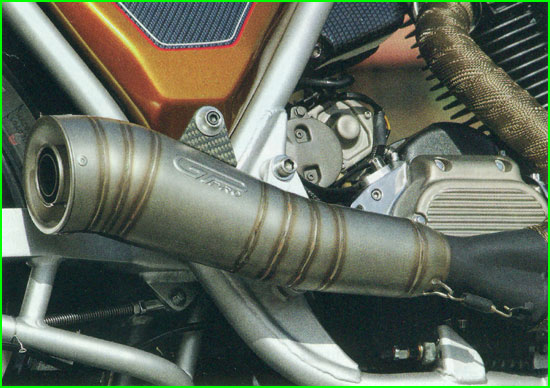 "The exhaust pipe was an easy choice. As we all know, a 2-into—1 on a V—Twin gives you bang for your buck. I'm never content to leave well enough alone and the addition of the Leo Vince Pro GP Segmented Muffler was a no brainer. Not only does it scream 'Badass race bike', but it has a pleasant exhaust note that won't pull a second glance from the Law as well as giving additional lean for the knee—dragging moments a bike like this begs for. Thanks, Tim, you and the crew at Leo Vince are the best! For the pad under your ass, more carbon was in order so a quick trip Don Clancy's shop and we were ready for a ride.
"The Bike handles like a slot car and the steering response is right now, thanks to the racing tires and the engineering that went into the project. The 96-inch motor is solid, reliable power that you can tap for canyon carving excursions on the weekend. "The Truth is, this is a fun bike to ride and it pays respect to what make a Harley and a metric bike cool, all in one package." HB



GENERAL
OWNER - Chris Dolan
SHOP - Custom Design Studios/Kirk Taylor
SHOP PHONE - (415) 382-6662
WEBSITE - customdesignstudios.com
YEAR/MAKE/MODEL - l99O/Harley Davidson/FXR/CDS
FABRICATION - Kirk Taylor/CDS
BUILD TIME - 1 year

ENGINE
YEAR/TYPE/SIZE - 2012/S&S/96-inch
BUILDER - Custom Design Studios/Mike Miller
CASES - STD
CYLINDERS - S&S
HEADS - H-D
ROCKER BOXES - H-D
CAMS - Andrews
AIR CLEANER - CDS/S&S
EXHAUST CDS - Kirk Taylor with Leo Vince Pro GP Muffler

TRANSMISSION
YEAR/TYPE - 1990 Baker Six-Speed 0.900 offset sprocket
GEARS - Baker
CLUTCH - Stock
PRIMARY DRIVE - Stock with wet clutch
FRAME - HD / CDS Modified
YEAR/TYPE - 1990 FXR
RAKE/STRETCH - Stock

SUSPENSION
FRONTEND - Yamaha R-1
LENGTH - Stock-28.5 in
TRIPLE TREES - Kraus 2.5 Drop Trees
SWING ARM - CDS Handmade aluminum trellis with spherical bearings
REAR SHOCKS - Works Performance
WHEELS, TIRES AND BRAKES

FRONT
BUILDER/SIZE - 16.5 Marchesini Magnesium off of H-D VR1OOO
TIRE/SIZE - Dunlop track tire l6.5 X 125/8O
CALIPERS - 6 piston radial mount Brembos (pr)
ROTORS Twin Brembo 13-in floating rotor

REAR
BUILDER/SIZE - Marchesini Magnesium 17-inch off of H-D VR1OOO
TIRE/SIZE - Dunlop Sportmax 190 X I7
CALIPER - Wilwood 4 piston CDS mnt bracket
ROTOR - 8-inch rotor
PULLEY - 48 tooth Sprocket Specialties cush drive

FINISH/PAINT
MANUFACTURER - PPG
COLORS - 24 Karat Gold w/West Coast, Hydrographix Carbon Fiber
PAINT/GRAPHICS - Kirk Taylor, CDS/Russell Soto at WCHG/Courtney Schamach
PLATING/POLISHING - Meclec/Pilgram Polishing
POWDERCOATING - RS Performance Coating

ACCESSORIES
FRONT FENDER - Carbon Fiber R-1
REAR FENDER - XR750 Modified by Kirk Taylor, CDS
GAS TANK - Stretched CCI/CDS
GAUGES - Auto Meter
HANDLEBARS - ProTaper/ Ryan Boyd Risers
GRIPS - ABM/Spiegler
MIRRORS - Joker Machine
HAND CONTROLS - Joker Machine
FOOT CONTROLS - H-D Mids with CDS pegs
HEADLIGHT - Urban Moto by Spiegler
TAILIGHT - Joker Machine Lucas style LED
TURN SIGNALS - LED
LICENSE MOUNT - Joker Machine
SEAT - Don Clancy